Reciprocating Compressors are proven units, known for their reliability over decades of use. They offer high performance, long life and are very user friendly. We offer a wide selection of configurations and options designed for years of trouble-free operation.

Curtis Simplex & Duplex CA Series Electric & Gas Driven Two Stage Reciprocating Tank Mount Air Compressors
For automotive, light industrial and other challenging applications, CA Series compressors are built to last. Components are selected based on durability and performance, ensuring that your CA Series compressor delivers reliable performance in demanding applications. Precision-machined components and a dedication to materials of construction that are meant for real world working conditions further assure long-term durability.
CA Series Features At a Glance
The Most Durable Pump Construction Available – Meticulous Material Selection Ensures Long-Term Reliability.
• 100% cast-iron cylinders and cylinder heads
• Long-lasting, corrosion-resistant crankshaft
• Reduces thermal stress for increased reliability
• Deep-finned cast-iron cylinders and cylinder head for cool operation
• Slow-turning pump increases pump life
Industrial Design – The Most Robust Reciprocating Air Compressor In Its Class
• Provides higher pressures, better efficiency and longer life
• Ready to handle rugged, heavy-duty applications
Quality Components – For Extended Product Life And Continuous Performance.
• Industrial-grade main roller bearings are precision fit for support of all rotating parts
• High-flow, heavy-duty stainless-steel valve system delivers more cfm per horsepower
• Robust intercooler increases compressor efficiency
• Metal intake filter/silencer is superior to plastic
• Heavy-duty stamped-steel belt guard
• Suction valve head unloaders for continuous running air compressors
Product download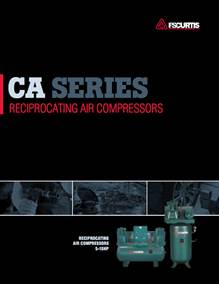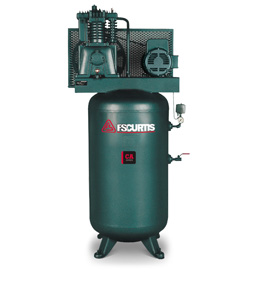 Curtis 5E2VT8-A2,
80 Gallon Vertical Air Receiver.
Also Available in 7.5hp & 10hp. 3ph 208-230/460v
Curtis Duplex CA Series Electric 5-10hp Two Stage Reciprocating Tank Mount Air Compressors
Duplex compressors are ideal when there are varying demand levels during operation. By alternating demand across two pumps, a duplex compressor also delivers longer pump life. The redundant pumps ensure you'll always have air, eliminating maintenance downtime.
• Alternator control panel comes mounted with magnetic motor starters and thermal overload protection
• Compressors alternate during normal operation
• Both compressors run when system demands
• Duplex design reduces electrical cost and eliminates downtime
• Factory oil filled
Product download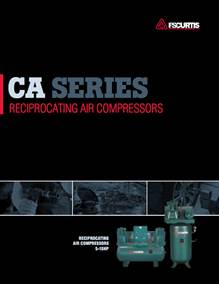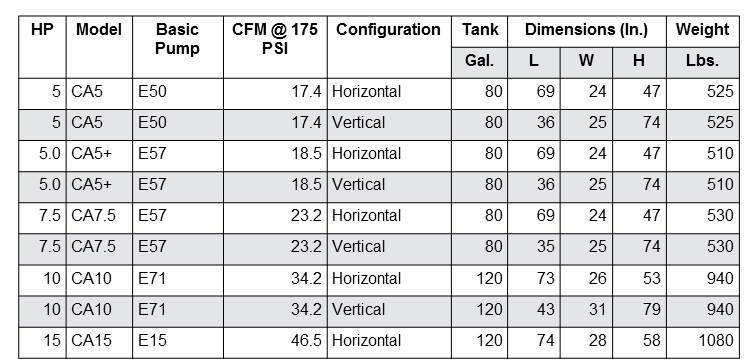 Curtis CA Series Gas-driven Two Stage Reciprocating Tank Mount Air Compressors
Gas-driven
Gas-driven models are ideal for applications that require air when electricity isn't readily available. FS-Curtis gas-driven models are perfect for fleet and service applications.
• Choose between Kohler or Honda engines
• OSHA-approved totally enclosed metal belt guard
• ASME-approved air receiver
• 12V DC starter with alternator
• Engine idle control