Dryers
Dryers remove water from compressed air, protecting your sensitive equipment and instrumentation. Operating expenses can also be decreased by avoiding repair or replacement costs as a result of wet, dirty air. We offer many types including Heatless, Desiccant, Refrigerated, Internal Heated and Externally Heated Dryers.

Refrigerated Dryers
HPR Series Refrigerated Air Dryers Improve Productivity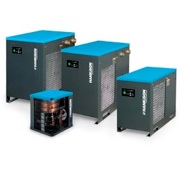 HPR Series non-cycling refrigerated compressed air dryers offer the right combination of technology and simplicity to keep your air system at a dry, 38°F (+3°C) pressure dew point, from 5 through 500 scfm. These dryers are built for durability, in a space-saving design. Sturdy sheet steel is formed and protected by an epoxy-based powdercoat finish. Reliable reciprocating refrigeration systems use environmentally friendly R-134a refrigerant. R-134a is known for its ability to maintain stable temperatures to protect the integrity of the 38°F (+3°C) pressure dew point. HPR Series can handle the pressure.
---
HPRplus Series Refrigerated Air Dryers 100 to 3000 scfm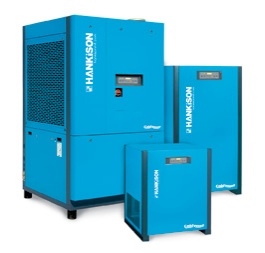 The HPRp Series provides quality filtration, rugged durability and engineered heat exchangers making the Hankison Performance and Reliability plus Filtration Series the best value solution available for continuous air demand profiles. Compressed air demand in most plants fluctuates significantly. Hankison offers compressed air users the refrigerated air drying technology to meet the needs of their critical applications and deliver high-quality air. Series dryers deliver stable ISO8573.1 Quality Class 4 and Class 5 pressure dew points and remove solid particulates and oil from compressed air systems across all operating flows.
---
Flex Series Energy Saving Refrigerated Dryers
The FLEX Series lowers air system power costs and improves productivity by matching power consumption to compressed air demand. In a typical manufacturing facility, up to 30% of electricity consumed is for generating and treating compressed air. To reduce total cost of operation and qualify for utility company incentive programs, proper air treatment equipment selection and application is required.
---
HIT Series High-Inlet Temperature Refrigerated Air Dryers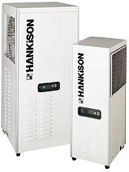 High Temperature Air to 180°F, 82°C; The Hankison HIT Series Dryer is Designed and Built to Run Reliably for Years
HIT (High Inlet Temperature) refrigerated compressed air dryers are compact with highly efficient heat exchangers, no internal mesh to foul. Heat exchange efficiency is increased by creating helix flow paths in counterflow arrangement. The two stage separator/filter removes condensed oil ad water over a wide range of flows. A reliable condensate drain – air operated – automatically discharges water and oil from dryer without air loss and no timer to adjust. Our automatic refrigeration temperature control system maintains precise chilled air temperature that never needs to be adjusted for load, ambient or seasonal changes. No freeze ups! A Hermetic refrigeration system requires no maintenance & no adjustments – it operates as reliably as your home refrigerator.
---
DHW Series Heatless Regenerative Desiccant Dryers
Hankison DHW Series dryers protect air systems exposed to temperatures below freezing, produces low pressure dew points and supplies the ultra-dry air that is necessary for your most critical applications.
Minimum purge air usage saves the heat of adsorption, maximizing the moisture holding capacity of the purge air which minimizes the amount required. Standard 10 minute cycle gives increased desiccant life over units operating on shorter cycles. DHW Series dryers allow the off-stream tower to fully repressurize before going on-stream preventing bed movement and loss of pressure downstream.
Consistent outlet pressure dew points – large desiccant beds produce:
• -40°F (-40°C) pressure dew point on a 10 minute cycle [equals an atmospheric dew point of -71°F (-57°C)] • -100°F (-73°C) pressure dew point on a 4 minute cycle [equals an atmospheric dew point of -122°F (-86°C)]
---
HHL, HHS and HHE Series Heatless Regenerative Desiccant Dryers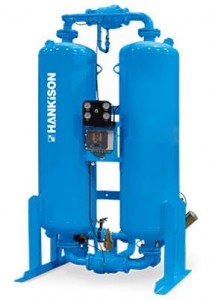 Utilizing twin towers filled with premium grade activated alumina, Hankison Heatless dryers are available with 3 application specific control systems to meet the needs of industry with economy and performance.
Utilizing twin towers filled with premium grade activated alumina, Hankison Heatless dryers are available with 3 application specific control systems to meet the needs of industry with economy and performance.Hankison HHS, HHL and HHE Series heatless desiccant dryers provide consistent outlet pressure dew points to -100°F (73°C).Standard Instrumentation
• Left and right tower pressure gauges
• Purge pressure gauge
• Moisture indicator – alerts operator of elevated dew point
• Throttling valve provides accurate purge pressure adjustment.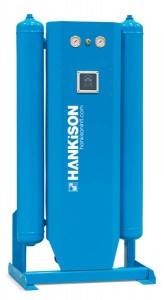 Three Application Specific Designs:
HHS Series Automatic SensaTherm® Energy Savings
HHS Series with SensaTherm® automatically matches purge air use to the demand on the system. This ensures maximum performance as the energy saved goes right to your bottom line. Controller features vacuum fluorescent text display that communicates energy savings, operating mode and service reminders. Select from one of the four pressure dew point settings to optimize your savings for each season.·HHL Series Selectable Purge Economizer Savings
HHL Series provides user selectable energy savings. Tailor the drying cycles, to match your peak air demand, in 10 percent increments. In addition, this state-of-the-art controller offers four pressure dew point settings to further tune your savings and adapt the system to your environment.·HHE Series-40°F Dew Point Performance – Pure and Simple
HHE Series presents traditional heatless drying technology. Using a simple timer based controller, these are designed to deliver maximum value to applications that operate at or near full capacity. Automatic time controlled bed regeneration cycles offer consistent performance and economy of purchase.
---
Heated Purge Desiccant Compressed Air Dryers
HPD Series Designed for applications that were previously forced to accept a -40 degree F pressure dew point when simple protection against seasonal freezing is the issue. The standard design delivers ISO 8573.1 dew points between Class 2 and Class 3 automatically. Class 2 (-40 degree F) dew points protect against freezing during low ambient conditions and Class 3 (-4 degree F) dew points keep you air system bone dry during the heat of summer.